Broaster Chicken
Mel-O-Dee House Specialty
Mel-O-Dee Broaster Chicken is truely the tastiest around - hands down. Just ask your neighbor.
Your choice of two sides and Mel-O-Dee fresh bread.
Try our chicken hand dipped in BBQ sauce for only 99¢
Mel-O-Dee Weekly Specials
Specials are served with your choice of two sides and freshly baked Mel-O-Dee bread.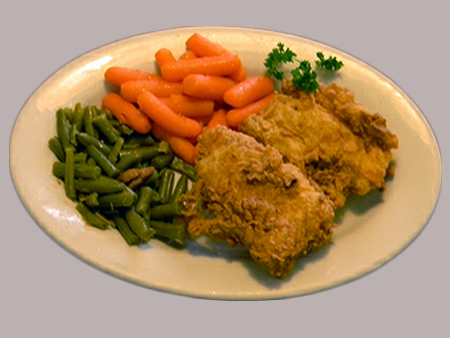 Broaster Chops and Cod
The Mel-O-Dee has long been known for our Broaster Foods - the House Specialty. The unique, trademarked Broasting process is a high-pressure cooking process that makes our chicken, chops and other meats juicy on the inside and crispy on the outside - somewhat like fried but not greasy. Our Broaster items are marinated in a unique seasoning, lightly breaded in our special coating, and always prepared to order. No pre-frying at the Mel-O-Dee. We're very fussy about the oil we use too - only all vegetable oil for healthfulness and supreme quality. Mel-O-Dee Genuine Broaster Specialties may sometimes take a little longer due to the huge demand and extra preparation time to cook to order but they are always worth the wait. Be sure to ask your server about taking home a Mel-O-Dee Bucket-O-Broaster.
Broaster by Buckets